November 12, 2020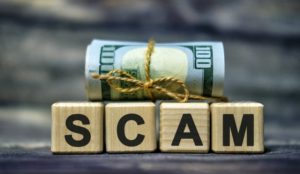 Finding a trustworthy professional painting company can be difficult, especially with a sea of scammers out there trying to earn your business, only to provide you with mediocre or unsatisfying results. Fortunately, there are a few ways you can spot these scammers to make sure that you don't trust the appearance of your home in the hands of people who have never touched a paint brush in their lives. Read on for four ways to easily spot a painting scam.
Payment Requirements
When you call somebody out to provide you with an estimate, it's not uncommon for painting companies to charge for that service. However, this is typically a minimal fee since you haven't committed to anything yet or signed a contract. That's why you should be very wary if they ask you for a large sum of money upfront. If it's a reputable company, you should never have to pay for a painting project beforehand. They should always deliver the results and services before asking for payment to make sure that you're satisfied and got what you wanted. You should also remain wary of companies that constantly change payment requirements, like quoting you one price and then billing you another amount.
The Contract Details
If a painter doesn't provide you with a contract, that's a huge red flag that they're a scammer. A professional and trusted painting company who has all of their ducks in a row will provide you with a contract that they will walk you through and clarify any concerns you may have. That way, you won't have to worry about paying more than they quoted you, being responsible for additional costs or accidents that happen on-scene, or other technicalities that you may not consider.
Licensing & Qualifications
A professional painting company will always be happy to provide you with their proof of licensing and qualifications if you ask for it. If they are hesitant to do so or refuse to, you're most likely dealing with someone who's attempting to con you. Without seeing their credentials, you have no idea whether they have the training or experience to get your job done right.
Bonding & Insurance
You don't want to be left responsible for accidents that happen while the paint team is completing the project or if any supplies get left on-site and stolen. That's why it's important to make sure that the painting company is bonded and insured. Painting companies that offer proof of insurance up-front usually do so because they want you to know that they're trustworthy and will provide you with stress-free results.
By being mindful of the four ways to spot a scammer listed above, you can make sure that you don't lose money to someone who doesn't know what they're doing and provides you with terrible results. If you're in need of an honest and accredited professional, the best place to start looking is on Google, that way, you can read their reviews and make sure that they deliver on their promises.
About Platinum Painting of McKinney
At Platinum Painting of McKinney our team of expert residential painters is dedicated to beautifying the community by providing excellent results on home-improvement projects. Whether you're looking for interior or exterior painting, popcorn ceiling removal, or cabinet painting services, you can trust that we always have your best interest in mind. We are completely bonded and insured and even offer a satisfaction guarantee because we know that the homeowners we work with will love the results we offer! For questions or to schedule a free estimate, visit our website or call 469-617-6479.
Comments Off

on 4 Ways to Spot a Painting Scam
No Comments
No comments yet.
RSS feed for comments on this post.
Sorry, the comment form is closed at this time.