November 30, 2020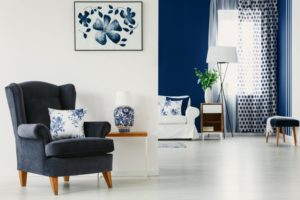 Do you want your house to feel more like a welcoming home that's modern and fun? Accent walls are one of the latest trends that homeowners are using to make their interiors feel more refined and updated. To learn more about this fashionable and budget-friendly interior paint idea, read below!
Choosing Your Accent Wall
While painting all of your walls the same color may seem like the simplest and most cost-friendly way to make your house feel newer, it doesn't add any flare or personality to the interior, making the space feel bland. If you're thinking about adding accent walls, it's important to choose what wall you want to highlight strategically, because if you choose the wrong one, it could make a room feel smaller than what it actually is and lose the overall effect.
By adding an accent wall, your goal is to highlight a focal point in the room to draw someone's attention directly to that area. Oftentimes, it's a good idea to choose a wall with a key feature, like a fireplace, built-in bookshelves, or even a special painting that you'd like to show off. No matter what wall you choose, it's important to make sure that you pick one that draws visitors' eyes in the direction that you want them to look.
Tips for Picking The Color of Your Accent Wall
In a room that's predominantly neutral, a splash of color from an accent wall is an easy way to grasp somebody's attention. It's important to consider the color that you're planning on using and how that can make a space appear smaller or more cramped. Darker shades of paint can tend to do this, while lighter paint colors help open a space up. An easy trick to help you choose the right wall to accent with color is to always make sure it's either facing a doorway or is at the side of the room. If it's on the same wall that somebody is entering through, this will make the entire effect fall flat.
Additional Tips for Transforming Your Interior
Remember that an accent wall helps build the foundation for creating an exciting and modern space, but it may need a little help. Consider purchasing artwork, furniture, or décor to really help showcase your new interior paint design, and make sure that the overall color scheme of the room remains balanced and isn't jarring.
In order to make sure that you achieve great results the first time around and get your accent wall to have a maximum impact on the interior of your home, it's a good idea to consult with a professional painter first. That way, you can avoid wasting any of your time or money on costly mishaps and mistakes!
About Platinum Painting of McKinney
At Platinum Painting of McKinney, our team of expert residential painters is happy to help guide homeowners along every step of the process to make sure that they get the results they want. We offer a satisfaction guarantee and come completely bonded and insured so you can rest-easy knowing that you're working with credible and reliable professionals. For questions or to schedule a free estimate, visit our website or call 469-617-6476.
Comments Off

on Inject Personality Into Your Home with On-Trend Accent Walls
No Comments
No comments yet.
RSS feed for comments on this post.
Sorry, the comment form is closed at this time.