February 1, 2021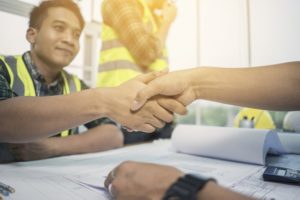 If this is the first time you're painting your home, you most likely don't have a trusted painting contractor to get the job done right. Unfortunately, this means that you'll need to go about finding the right one the old-fashioned way, which is taking to the phonebook (well, today, more like Google), and contacting local painters with great reviews. Once you've narrowed your search down, you'll need to get some answers to important questions. Read on to learn four questions you should ask your painting contractor before signing a contract with them.
Will Your Team Do the Job?
Although a company may make it seem like an experienced team who they work with all the time is going to do the job, that's actually not always the case. Some painting companies subcontract jobs to other, less experienced or unskilled people so they can pay less in labor and make out with a higher profit. This is why it's a good idea to be wary if a company that comes in with a significantly lower estimate than other ones you've looked at.
Is Your Painting Crew Licensed & Bonded?
If a painting company isn't licensed and bonded, you should not sign any type of contract with them, because that could mean bad news for you. When a company has all of the proper paperwork to show that they're licensed and bonded, it means that they have all of their legal ducks in a row and nothing will fall onto your shoulders when you partner with them, like having to pay for an injury or accident that happens on the project site. Most companies who have completed the paperwork for these certifications are more than happy to show them to potential customers. If they don't have them, take it as a massive red flag.
Do You Offer a Satisfaction Guarantee?
Some painting companies offer a satisfaction guarantee, which takes a ton of pressure off of your shoulders when you hire them. That means that after your final inspection, if you're unhappy with anything and feel the walls need a touch-up, extra coat of paint, or anything else, they'll happily take care of it for you without any hassle.
Do You Prep & Clean-Up the Area?
Every great paint job starts with thorough preparation and ends with cleaning up the mess. When a professional team takes care of these tasks, not only does this mean less work for you, but it will also make sure the results will last.
By asking your potential painting company these four questions, you'll be able to determine whether they'll be the right people to take on your job and provide you with the results you want.
About Platinum Painting of McKinney
At Platinum Painting of McKinney, our team of professional painters only works on residential homes, making us true experts in our field. Not only is our team completely bonded and insured, but we also offer a satisfaction guarantee to make sure that homeowners are always happy with the finished project. If you have any questions or would like to schedule a free estimate, visit our website or call 469-617-6476.
Comments Off

on 4 Questions to Ask Before Hiring a Painting Contractor
No Comments
No comments yet.
RSS feed for comments on this post.
Sorry, the comment form is closed at this time.