February 11, 2021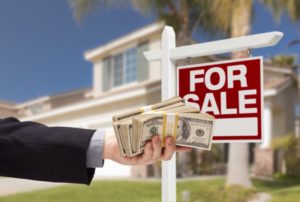 According to Business Insider, the housing market has exploded over the last year and new construction is trending as well. More people are buying and selling their homes, and if you're planning on doing the same thing, you probably want to get top dollar, especially in such a competitive market. One way to help boost your home's curbside appeal and draw attention to it is with a fresh coat of exterior paint. Read on to learn how painting the outside of your house can help get it sold faster.
Does Boosting Curbside Appeal Help Sell a Home?
When you drive past a home with a unique or modern exterior paint theme, it makes you want to slow down a little bit to take it in and appreciate it. By doing the same to your house and distinguishing it from the sea of brick homes in your neighborhood, you can encourage potential buyers to do the exact same thing. Not only does a fresh and modern exterior design make your home look newer, setting a great first impression, but it also minimizes the buyer's "to-do" list that they'll be keeping in their head as they tour your home and consider the convenience and value it has to offer.
What Message Does Fresh Exterior Paint Send to Potential Buyers?
New exterior paint says more about your home than a simple cosmetic touch-up. It shows that as a homeowner, you cared for and upkept your home, which will shed a positive light on the rest of their tour. When a fresh exterior coat of paint is paired with a cut and well-kept front yard, potential buyers will feel more confident in putting an offer in. Who knows, there may even be a bidding war!
Modern Exterior Paint Trends to Sell a House for Top Dollar
Today, there are dozens of new exterior paint trends that you can choose from. It's a good idea to consider what the inside of your home looks like and choose a fitting exterior color and design to pair well with it and give potential buyers a good idea of what they can expect when they enter the home. Here are a few of the latest trends in 2021:
Black, white, and red. Even though it may seem odd to envision this color combo at first, a predominantly white-painted home with black trim and a red door is inviting and incredibly satisfying to the eye.
White, clay, and sage green.If you're in a more wooded area, white trim, sage or mossy green stucco or siding, and a clay or brown door helps the home flawlessly integrate with the landscape.
Yellow, white, and black. For a more homey-cottage look, you can paint the outside of a brick home a pale yellow and frame it with white trim and a black door.
Espresso brown, ocean blue, and blue-grey. If you want your home to look more modern, try a blue-grey exterior that's brought to life with a bright, ocean blue door and espresso brown trim.
With any one of these exterior paint trends, you can truly transform your home and get it snatched off the market as soon as it's up for sale. Not to mention, you'll be able to get the most bang for your buck if you a hire an expert painter, because your house will surely increase in value!
About Platinum Painting of McKinney
Our team of expert residential painters at Platinum Painting of McKinney have painted the outside of thousands of homes across North Texas. We're well-rehearsed in the latest trends and painting equipment to provide seamless, beautiful results that homeowners love. We even offer a satisfaction guarantee to make sure that everything lives up to the homeowner's standards! For questions or to schedule a free in-home estimate, visit our website or call 469-617-6476.
Comments Off

on Can You Boost a Home's Value with Exterior Painting?
No Comments
No comments yet.
RSS feed for comments on this post.
Sorry, the comment form is closed at this time.