Cabinet Painting – McKinney, TX
Dramatic Kitchen Makeovers on a Budget
When it comes to improving the kitchen, many people think that they have to completely gut it to transform the room. Renovations can take a long time and quickly raise the cost above what you wanted to spend, particularly if you want to update the appearance of cabinets. At Platinum Painting, we have a money-saving secret that we'll share with you—professional cabinet painting in McKinney, tX costs significantly less and can still give you the dramatic results you're looking for. Contact our McKinney location today to learn more about this service or to request a free, in-person quote.
Why Choose Us:
Based in McKinney
Insured
Satisfaction Guarantee
Serving All of North Texas
What Do We Paint?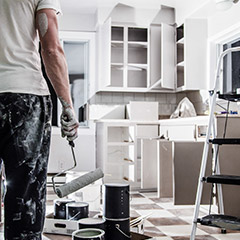 When we say we paint cabinets, we don't just mean in the kitchen alone! We can handle cabinet work with any configuration and in any space, even unique or hard-to-reach areas. These projects include:
Kitchen Cabinets
Center Island
Garage Cabinets
Bathroom Cabinets
And much more!
No matter where your cabinets are located, they will look impeccably beautiful by the time we're finished, and you can expect the results to last.
The Cabinet Painting Process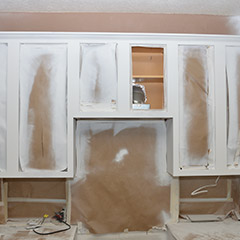 We offer two painting methods for cabinets, and Platinum Painting can customize your cabinets within your budget. We primarily recommend spray painting, which leaves a hard, smooth paint surface that looks brand new. We also always go the extra mile to apply multiple coats, making sure the finish is perfectly consistent and even with no drips or unsightly blemishes. That way, the results are more likely to stick around for several years to come.
If your main concern is pricing, we can adapt to your preferences with a "brush and roll" technique. Instead of spray paint, we literally brush and roll paint onto the cabinet surfaces. This method doesn't have results as smooth as spraying, but your cabinets will still look amazing!
Painting Cabinets or Resurfacing Cabinets?
It can be difficult to choose between cabinet painting and cabinet resurfacing. Ultimately, as the homeowner, you have the final say, and we will do everything we can to make your design goals become a reality. However, in general, we recommend painting over resurfacing for these reasons:
Compared to resurfacing, painting is much greener and less wasteful. By painting your cabinets, you can know that you're helping the environment.
Painting typically requires much less time than resurfacing. As a result, you have fewer disruptions to your routine, especially because the cabinet parts remain in place.
Typically, cabinet painting is more cost effective than resurfacing. If color is the only feature that you don't like about your cabinets, painting can be a smart investment.
Cabinet Painting FAQs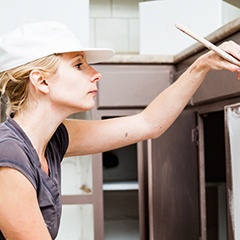 How your cabinets look matters in a kitchen or bathroom. When it's time to paint them, you want to pick a trusted team to handle the job right. At every step, Platinum Painting takes care of you and your home, giving you "new" cabinets to enjoy without the hassle and stress. Not sure if Platinum Painting is right for you? We've answered the most common questions customers ask us about cabinet painting. Take a few minutes to read the information below, but don't hesitate to contact us if you have other questions.
Is there a difference between cabinet repainting and refinishing?
Definitely. With high quality paints, repainting is a good option for those who are looking for a less expensive, less time-consuming, and more environmentally friendly solution for their cabinets. Refinishing, which involves re-staining the wood and is more costly, allows you to change the style of the cabinets. Don't worry if you don't know which type you want! Our estimators are experts and can give you some advice. Plus, our team will check with you to make sure you're happy with the results.
Do I need to clear coat over the paint to protect the cabinets?
Although having a clear coat over the paint may seem like a good idea initially, we typically do not recommend it. The paint and the clear coat could have an adverse chemical reaction, causing a yellowy hue that worsens over time. At Platinum Painting, we take pride in the quality of our work and want the finished product to still look amazing years from now. Rather than apply a protective clear coat, we use the proper primers and top-quality products that create the new look you want while protecting the finish for as long as possible.
How long does cabinet repainting take?
There are several factors that affect how long your project can take, such as the size and number of cabinets. If you would like to refinish or resurface the cabinets, the project will take more time to complete. Also, the painting technique you choose plays a part. Compared to a "brush and roll" method, spray painting is typically much faster, even with multiple coats. When they come to your home to give you a quote, our trusted estimator also provide an estimated timeline for your specific project.
What prep do I need to do before you start?
Before our team arrives to start on the cabinets, we would appreciate it if you empty them completely. Although you can leave items there while we work on the outside of the cabinets, they could get dirty from the sanding and other potentially messy tasks we'll be doing. As a result, those items may require cleaning after we're done. In addition, we ask that you clear the countertops of clutter. A little bit of preparation on your side helps us be more efficient with our work, which saves you money!