Wallpaper Removal – McKinney, TX
Get Rid of Wrinkled Wallpaper Without Damage!
Sometimes, wallpaper can be a fun way to add unique character to a room, but more often than not, the design or pattern shows its age and outdated style. Platinum Painting of McKinney can remove your wallpaper, wipe the slate clean, and give the room a new, more modern appearance. Thanks to our state-of-the-art solutions and materials, getting rid of wallpaper has never been so easy, fast, and stress free. To get started, please contact us today to learn more about professional wallpaper removal in McKinney, TX.
Why Choose Us:
Based in McKinney
Insured
Satisfaction Guarantee
Serving All of North Texas
What Should You Think About When Removing Wallpaper?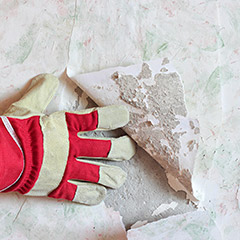 Although removing wallpaper may seem straightforward at first glance, taking wallpaper off is actually a delicate process. If not done properly, it can cause damage to your walls. At Platinum Painting, our skilled professionals consider all factors, including the following, that determine how we approach wallpaper:
How long has the wallpaper been in place? The age of the wallpaper and the adhesive can influence how easily it will come off.
Was the wall properly primed and sealed before the wallpaper was applied? These steps in application facilitate the removal process.
What kind of wallpaper is it? Wallpaper can be made from various materials, including fabric or vinyl coating. Each type requires a different removal method.
Regardless of how tricky the wallpaper is, you can rely on us with our effective steamers, safe solvents, and other professional tools to get the job done right the first time.
The Benefits of Wallpaper Removal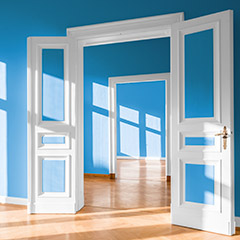 When you get rid of your wallpaper, you lose a tired pattern you don't like! Also, over time, wallpaper can also age through obvious bubbles and peeling, especially at the corners. In some cases, the wallpaper can even yellow or fade. If you notice any of these problems, we can improve the look of your walls by taking the wallpaper down. Removing outdated or worn wallpaper updates your living spaces, giving you a blank canvas for your future home design ideas.
Wallpaper Removal Steps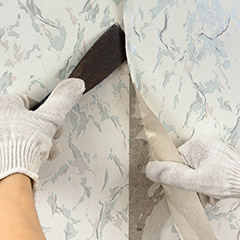 Our team uses non-toxic solvents to prepare the affected walls and weaken the wallpaper adhesive.
We take our time to gently and carefully lift the wallpaper off in order to avoid damaging the walls. Don't worry about any remnants that fall onto the floor. We'll handle the cleanup!
Finally, we wash the residue from the wallpaper away and correct the remaining flaws, smoothing the walls out with some sanding and a skim coat. If you wish, our seasoned team can apply primer, followed by the beautiful, new color of paint you've picked!
Wallpaper Removal FAQs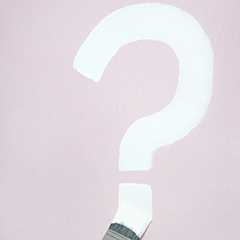 Before inviting a service company into your home for improvements, you want to know you can trust them to perform the job correctly. At Platinum Painting, we completely understand how to handle wallpaper in the most efficient and effective way possible. We have responded to questions about our wallpaper removal services below, and we invite you to take a quick look. If you have additional concerns our team is happy to help however we can!
Can you paint over my wallpaper?
If that's what you'd like us to do, we can paint over wallpaper. However, we typically recommend against it. When moisture comes into contact with wallpaper, it can bubble and peel away from the wall regardless of how long it has been in place. In addition, wallpaper tends to have a different texture than bare walls, which is obvious when painted. Perhaps most important, most homebuyers dislike painted wallpaper and may be turned off by this feature. If you want to improve your walls' aesthetic, the wallpaper should be removed properly and then painted the color(s) you want.
Will my walls be ready to paint once the wallpaper is removed?
Unfortunately, wallpaper stays attached to your walls with a strong adhesive that often leaves a residue on the wall. We utilize specialized tools and solutions to take down the wallpaper while leaving behind as little residue and damage as possible. Before we say we're finished, we'll take the time to repair the sheet rock and retexture the walls so you can't tell there was ever wallpaper there to begin with! Finally, we prime the walls.
How long does wallpaper removal take?
The time it takes our team to remove wallpaper depend on several factors: the kind of wallpaper, how long it has been up, and whether it was properly applied (i.e., whether the wall was sealed and primed first). As a result, wallpaper removal can range from quick and easy to challenging and time consuming. However, we generally estimate removing wallpaper and repainting to take about two days. When our estimator comes to your home to provide a quote, they can give you a more accurate timeframe.
What prep do I need to do before you start?
There actually isn't much that you need to do to prepare for our team. In fact, we only ask that you remove artwork or pictures from the walls. That way, we can get straight to removing the wallpaper and the residue. From beginning to end, we go the extra mile to repair and texture the walls, so it'll seem like wallpaper was never there in the first place. Afterward, we always clean up our mess and leave perfectly primed walls just waiting for a fresh start.