December 30, 2020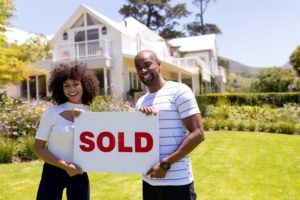 Putting your home on the market can be a hassle, because to get top-dollar for it, you'll need to spruce it up a little bit. You can do this by putting model furniture in it, getting new landscaping, and, one of the most effective methods for selling your house fast, repainting it! Whether it's the exterior or the interior, a simple, fresh coat of paint can make everything feel more modern, newer, and cleaner. Read on to learn more about what rooms in your house you can paint to help potential buyers snap it off the market.
Why Should You Paint Your House Before Selling It?
Most potential buyers are looking at your home as a blank canvas that is ready to be turned into a home. When you host an open house and model the home, families are going to be choosing what room goes to who, and they'll be envisioning themselves in the space. That's why it's important to make it feel clean, welcoming, new, and ready to be lived in. A fresh coat of paint not only gives a home a new-house smell, but it also allows you to turn it into a blank canvas instead of a home that you've enjoyed living in for years.
What Rooms Should You Repaint?
Some rooms may require limited décor and painting, while others may need a lot of work, depending on what rooms are the most worn-down-looking. The areas that you've thoroughly enjoyed sharing with your own family while living in the house are likely the ones that they will be enjoying. That's why it's a good idea to repaint areas like the living room, bedroom, play rooms, or even the kitchen. It's best to stick with neutral colors if you're painting to sell your house, like gray, white with warm or cool undertones, and warm blues.
Is it a Better Idea to Paint the Exterior of Your Home Before Selling?
If the outside of your home is desperate for a touchup, and it's been quite awhile since you've had it painted, this may be the better investment to make. The curbside appeal of a house is just as important, if not more so, than the way it looks inside. Even if you have a brick house, you can give it a more modern and updated feel by painting it, which is a common trend that many homeowners are jumping to have done.
Get the Best Value for Your Home
Selling a home is a huge commitment of time and money to make, and while it may be a bummer that you won't be able to enjoy the new paint job since you'll be moving out, know that your potential buyer most definitely will. With an investment in the interior or exterior, you can get the best price for your house so you can repaint your new home when you move in!
About Platinum Painting of McKinney
At Platinum Painting of McKinney, our team of skilled and knowledgeable professionals are reliable, helpful, and trustworthy. Because they only paint residential homes, our teams are truly experts in the field. We come completely bonded and insured and even offer satisfaction guarantees for each home we paint. That way, homeowners can feel peace-of-mind that no complications will arise and they'll be able to achieve the amazing results they envisioned. For questions or to schedule a free estimate, visit our website or call 469-617-6476.
Comments Off

on What Rooms Should You Repaint to Sell Your House Faster?
No Comments
No comments yet.
RSS feed for comments on this post.
Sorry, the comment form is closed at this time.