April 15, 2021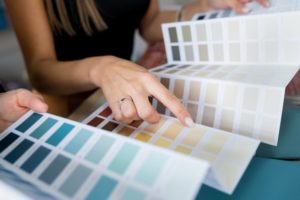 Taking on a big project like painting your bedroom, living room, or kitchen can be overwhelming, especially if you aren't aware of all of the considerations that go into preparing for painting, like what brand and gloss of interior paint you should get. If you don't know what paint gloss is and are panicking right now because you're days away from starting your project, then you've come to the right place. Read on to learn everything you should know about paint gloss and what one is best for your project.
What is Paint Gloss?
The gloss of paint, also known as the sheen, determines how much light it will reflect off of it when it has dried, or how shiny it will appear. For example, paints with high gloss will appear brighter, even if the color is rather dark. On the other end of the spectrum, matte paints will appear more dull, and are great in spaces that have more natural lighting. However, choosing the paint gloss that's right for your project depends on the look that you're trying to achieve.
Types of Gloss That Go Best in Certain Rooms
There's a spectrum of paint glosses that goes from flat or matte all the way to glossy or high-sheen. Each gloss of paint offers unique traits and benefits, depending on the area that you'll be painting:
Matte or Flat. These reflect very little light and make walls appear softer.Because they're difficult to clean, they go great in less-trafficked rooms, like a bedroom or bathroom.
Low-Sheen. These have a slightly higher sheen than flat paints and can show certain imperfections more than paints with higher sheens. This makes them great for lower trafficked rooms as well.
Satin. These reflect more light, making them a great option for rooms that already have natural lighting. This also allows them to hide imperfections better, so they'd be a better option for higher-trafficked rooms, like living rooms.
Semi-Gloss. These are easier to clean and the surface of the paint is smoother, making them a great choice for kitchens and dining areas.
High-Sheen. These are highly reflective and are the easiest paints to clean once they're dried onto walls.
Paint Gloss & Aesthetic
It's important to consider other factors of the room that you're painting before choosing the paint gloss as well, like how much natural lighting it receives and what it's used for. Once you parse these details out, you'll be able to choose a sheen that's long-lasting, functional, and aesthetically pleasing.
About Platinum Painting of McKinney
At Platinum Painting of McKinney, our team is comprised of expert painters who only work on residential buildings, making them a great resource when it comes to choosing the best brands and types of paints for different living areas. We also offer a satisfaction guarantee, so all of our clients feel proud and happy with the results they invested in. For questions or to schedule a free in-house consultation, visit our website or call 469-617-6476.
Comments Off

on Interior Paint Gloss 101: Tips for Choosing the Right Gloss
No Comments
No comments yet.
RSS feed for comments on this post.
Sorry, the comment form is closed at this time.